Our Lenses
WLC - Essilor - Zeiss
DuraVision Platinum UV - DuraVision BlueProtect UV - Crizal Easy UV - Crizal Sapphire UV - Crizal Prevencia UV - Crizal Optifog UV - Transitions Signature Gen8 - Style Colours - Transitions Xtractive New Generation - PhotoFusion X
Here at Designer Glasses Boutique all our lenses are supplied from WLC, Essilor and Zeiss.
WLC are partnered with Essilor and supply independent opticians, they are renowned for their supply of lenses. WLC offer exceptional value for money for optician quality lenses.
Essilor lenses are the number one brand in spectacle lenses recommended by opticians around the world. Essilor offer vision solutions for every lifestyle.
Zeiss are pioneers of scientific optics, Zeiss continue to challenge the limits of human imagination. Zeiss lenses are flatter, thinner and offer excellent vision clarity.
We have lots of lens options available, if you would like help picking your lenses please get in touch

WLC Scratch Resistant Coating
As the name suggests, this coating helps to prevent scratches to your new lenses and acts as a protective layer, making the lens more durable. Scratch resistant coating helps to prolong your lens life.

WLC Anti-Reflection Coatings
We offer 4 different types of anti-reflective coatings, these are listed below:

WLC Standard Anti-Reflection Coating
The anti-reflection coating reduces the reflection on the front surface of the lens and reduces glare from bright objects; this is especially useful in reducing glare from phones, tablets, computer screens, artificial lighting and glare from oncoming headlights when driving.

Essilor Crizal Easy Pro UV Coating

Durable lenses with a scratch protection for increased durability.
Easy to clean, using it's repellent and resistant technologies to ensure your lenses stay clear and are easy to clean.
UV protection is designed to protect your eyes from UVA and UVB rays. Thanks to its glare reduction properties your lenses will help combat eye strain by reducing glare from your television, computer screen and smartphone.

Essilor Crizal Sapphire HR UV Coating
Covered by the 2-year Crizal scratch guarantee.
Increased transparency of the lens for a better appearance at all angles.
100% of UVA and UVB light is reflected to ensure your eyes are protected.
Crizal Sapphire UV maintains industry leading anti-reflective, scratch resistant, smudge repellent, water repellent and dust repellent benefits ensuring ultimate lens protection. Crizal Sapphire UV sets a new standard for lens transparency, meaning the wearer's selfies & photographs are not interrupted by unwanted lens reflection.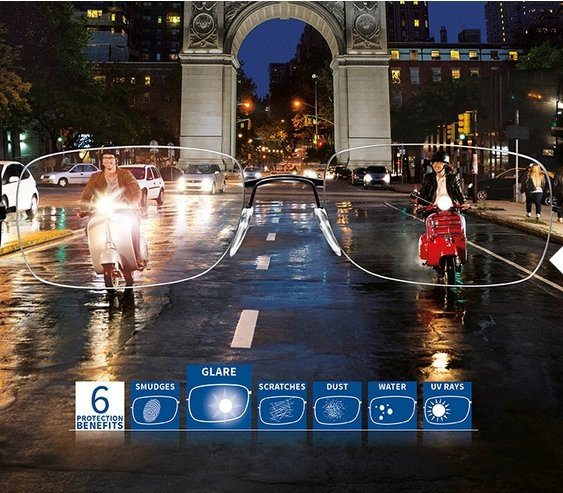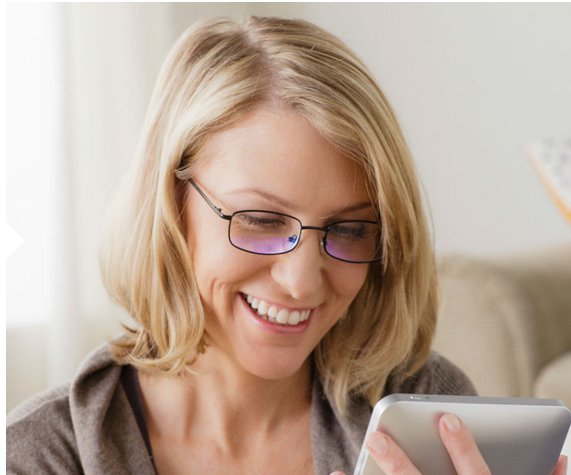 Essilor Crizal Prevencia UV Coating
The Crizal Prevencia coating is the first clear lens to prevent long-term damage for your eyes by selectively filtering harmful UV and blue lights.
UV light from the sun can cause cataracts while blue-violet light is one of the contributing factors of damage to retinal cells. Prevencia also lets in the good light that regulates sleep and mood, and boosts brain activity. By choosing Crizal Prevencia, you are protecting your eyes on a daily basis and maintaining your long-term eye health.
It has all the same benefits as the Crizal Sapphire UV coating plus it blocks out the bad light and lets good light in. The Crizal Prevencia lenses have a 2 year guarantee which covers scratching, in the event that your lenses are scratched Essilor will replace the lenses without quibble.
Please note the Crizal Prevencia lenses have a purple hue on the front and back surface of the lens, that can be seen under certain conditions and it indicates that the lens is actively blocking harmful blue-violet lights.
Zeiss DuraVision Platinum UV
Zeiss DuraVision Platinum lens coating hardens the lens surface, making it more resistant to damage, reduces light reflections on the surfaces and makes the lens more dirt-resistant and easier to clean. 
Zeiss DuraVision Platinum takes hard coating to the very next level. The lenses go through a special manufacturing process which makes the lenses more durable than ever.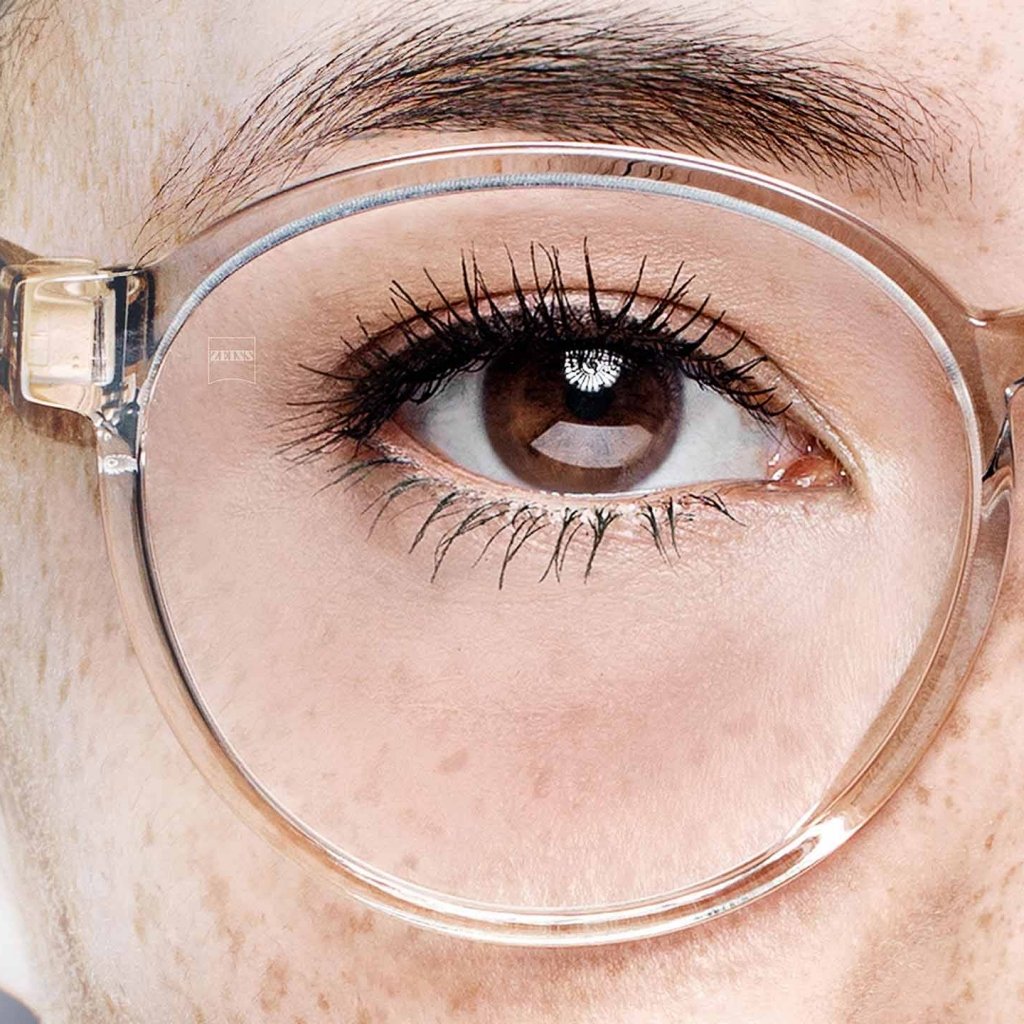 Zeiss DuraVision BlueProtect UV
The Zeiss DuraVision Blue Protect is a special lens coating that is ideal for people who spend a lot of their time indoors and are exposed to the potentially harmful blue light emitted by LEDs, television, computer screen and tablets. The Zeiss DuraVisison Blue Protect contain a special filter which ensures comfortable vison even when there is a high blue light portion.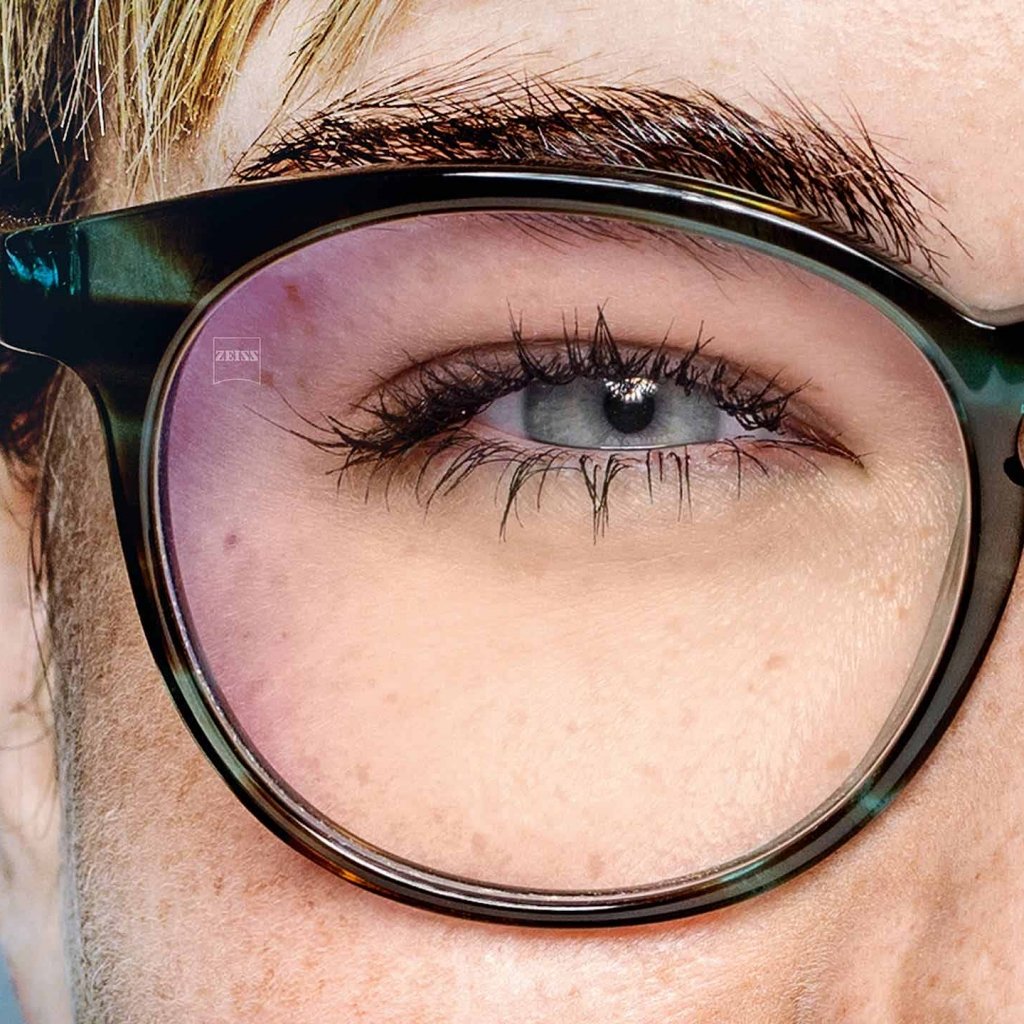 Prescription Sunglasses Lens Coatings
Essilor Crizal Sun UV coating
The Crizal Sun UV coating is available with prescription sun lenses, the Crizal Sun offers additional UV protection, the Crizal Sun reflects 4 times less UV light from the back surface than standard sun lenses. The coating also has additional glare protection by eliminating the reflection of visible lights. The Crizal Sun coating protects your eyes from the discomfort of black surface glare.  Another great advantage of selecting the Crizal Sun lenses is that they have less smudging and therefore the lens will stay cleaner longer and are much easier to wipe clean, this is due to the combination of back surface anti reflection coating and super-hydrophobic treatment on both surfaces of the lens.
Now let's look at the different type of tints that are on offer for your lens:
Transitions Signature Gen8
Transition lenses basically change from clear lenses when indoors and dark when outdoors. They are advanced everyday lenses, clear indoors and at night. Up to 40% faster reaction speed than standard photochromic. They also block 100% of harmful UVA & UVB rays, they are available in three colours, brown, grey and graphite green.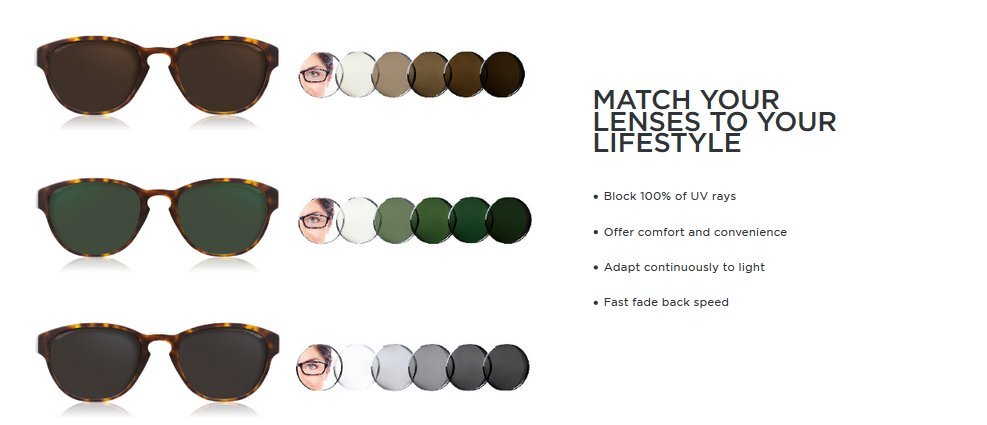 Great benefits to the Transition Signature lenses are:
Protect your eyes from harmful light, transition technology blocks 100% UVA and UVB light rays and selectively filters harmful Blue-Violet light indoors from modern light sources, and outdoors from the sun. Your new Transition lenses will help contribute to your overall eye health.
Fastest and most responsive technology. When exposed to natural light the trillions of photochromic molecules found in Transitions Signature Chormea7 technology begin to re-calibrate so the optimal amount of light reaches your eyes whether you're in bright sunlight or under cloud cover.
Adapts to surrounding light conditions
Optimal amount of light reaches your eyes
Natural vision
Comfortable vision
Transition XTRActive lenses
The Transition XTRActive lenses give you extra protection from light, even in the car. These transitions are ideal if you have an active outdoor lifestyle and if you drive frequently. The transitions have a hint of tint that protects eyes from harsh indoor light. The XTRActive lenses are also extra dark in bright sunlight and hotter climates.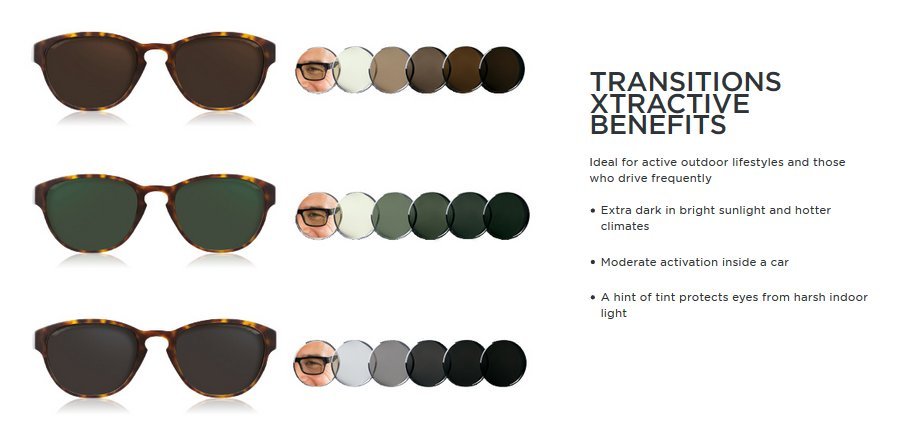 Great benefits to the Transition Xtractive lenses are:
- Standard transition lenses activate when exposed to UV. Modern windscreen block UV light, Transitions XTRActive lenses darken behind the windscreen of a car because of their unique technology, which responds to visible light as well as UV. This helps to protect your eyes from glare and sunlight while driving.
- Protect your eyes from harmful light, transition technology blocks 100% UVA and UVB light rays and selectively filters harmful Blue-Violet light indoors from modern light sources, and outdoors from the sun. Your new Transition lenses will help contribute to your overall eye health.
- Transition XTRActive lenses come with a subtle hint of a tint, so that your eyes are protected from harsh lighting. These lenses are ideal for people who suffer from light-sensitivity, people who work outdoors or if you are just looking for a more comfortable pair of lenses.
Transitions Style Colours
We are pleased to announce the launch of the NEW Essilor Transition Style colours, these transitions come in 4 vibrant fashion colours, giving you more lenses options.
The Transition Style Colours have many benefits including:
- Protect your eyes from harmful light, transition technology blocks 100% UVA and UVB light rays and selectively filters harmful Blue-Violet light indoors from modern light sources, and outdoors from the sun. Your new Transition lenses will help contribute to your overall eye health.
- Tints with light, the Transtions Style Colours lenses are clear lenses indoors and tinted when out in the sun, please note the Style Transitons do not go as dark as the original classic Transitions.
- Reduces glare, an extra benefit of the Transitions is that the tinted lens allows a more comfortable vision.
- Choose your style, with different fashion colours to express your style, the colours are: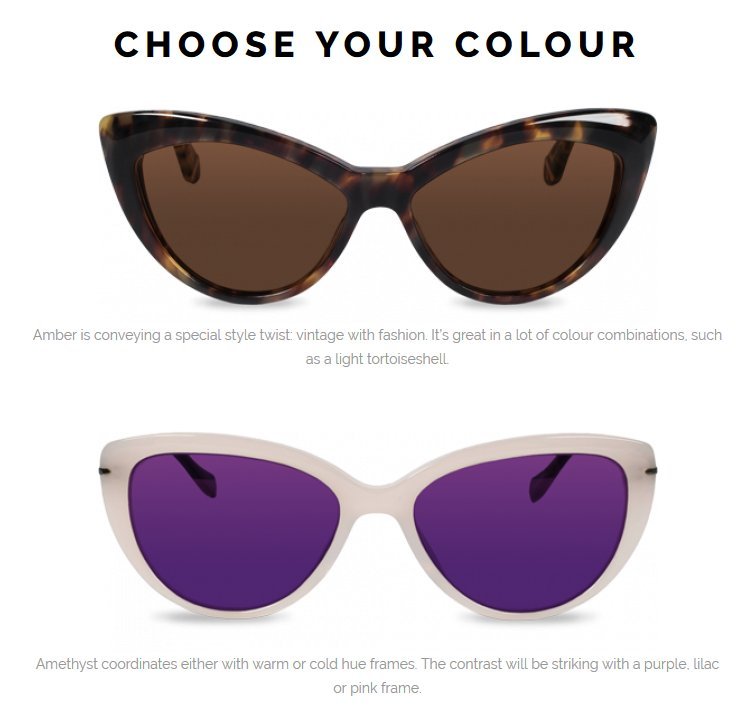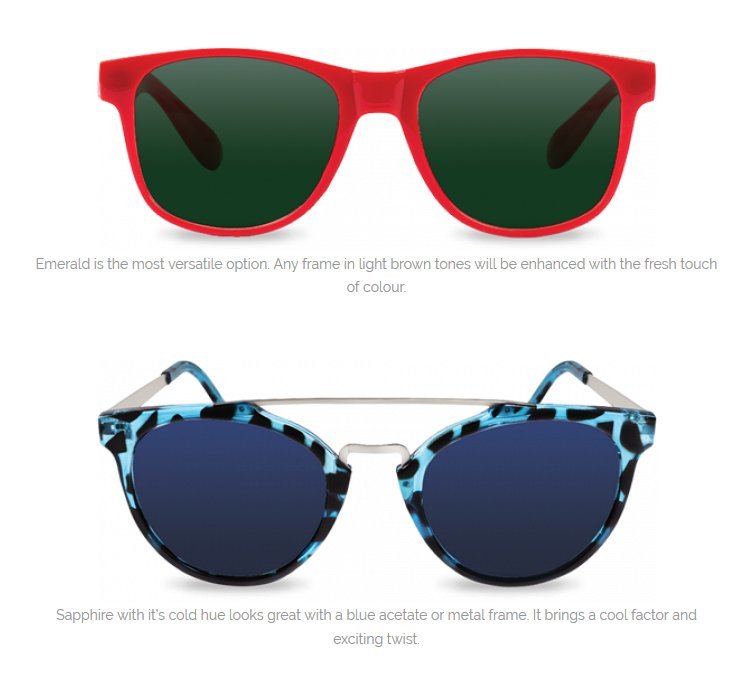 For sunglasses prescription lenses we also offer different tints and finishes:
Suntint Lenses
Suntint are a tint that is added to the lens and is permanently on the lenses. You can also decide whether you prefer a lighter tinted look or a gradated tint effect, this creates tinted sunglasses that are darker at the top of the lens and clear towards the bottom.
A great benefit of tinted lenses is that they can reduce glare and will protect your eyes from UV light, this allows you to have comfortable and protected vision.
Mirror Lenses
Mirror lenses are one of the latest trends to be seen of sunglasses, the mirror lenses are available in a choice of 4 colours and also have an anti-reflection coating as standard which prevents back reflections.
Polarised Lenses
Polarised lenses are ideal if you drive a lot of the time, the polarised lenses reduce glare, which is ideal when driving on wet roads. The polarised lenses are also good for water sports and winter sports as it reduces the sunlight that is reflected onto flat surfaces, for example, snow, ice and water. Another benefit of these lenses is that they block out 100% of harmful UVA and UVB rays.
- Polarised technology offers the highest levels of UV protection, this makes polarised lenses a great option for people who have sensitive eyes and for elderly people who have had ocular surgery.
- Polarised lenses come in a wide range of colour options.
- Polarised technology enhances daytime driving experience by eliminating blinding glare produced by reflections on wet road surfaces, dashboards and other cars, allowing you to better anticipate changes and hazards on the road by improving driving reaction times.
- Whether you are looking for sunglasses for driving, sports or a fashion accessory Polarised technology brings together style and function. Even in the brightest environments, your polarised lenses will reflect the sun's rays back, reduce glare and protect from harmful UV rays.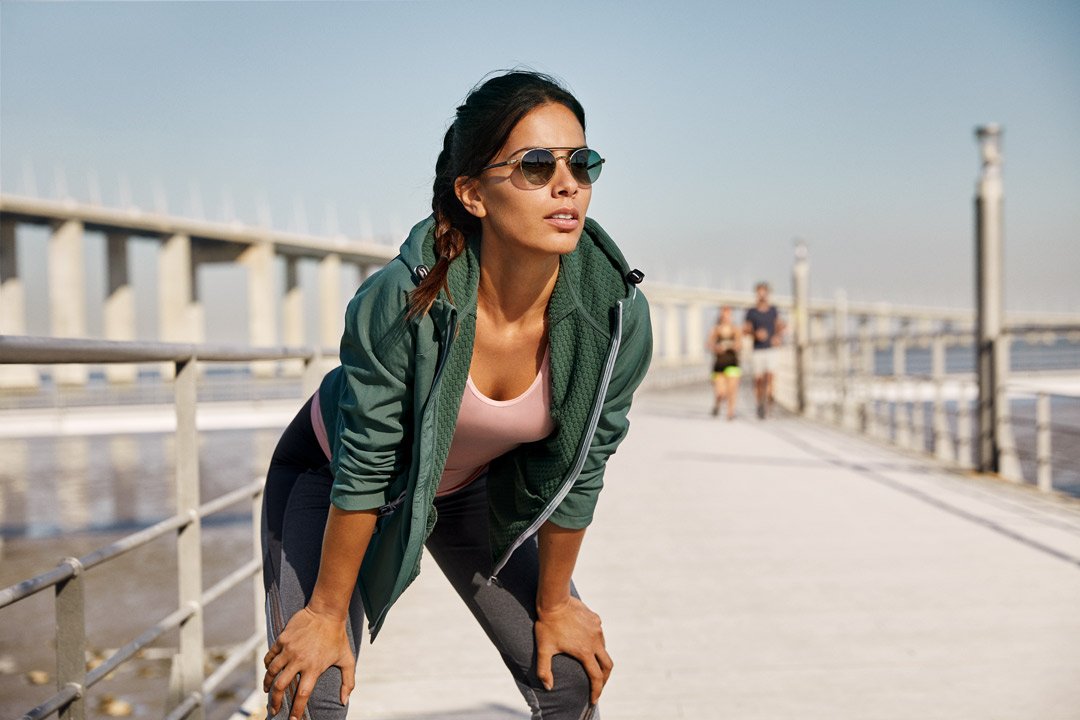 Understanding Your Prescription
Once you have had your eyes tested, your Optician is obliged to give you your prescription. It will look something like this:

You will have two rows one for your right eye and the other for your left eye. All prescriptions will have a Sphere (SPH), this will begin with a plus (+) or a minus (-). A plus is for people who are long sighted, this means that you find it difficult to see objects close to you and a minus is for people who are short sighted, and this means that you find it difficult to see objects far away. The majority of prescriptions have a plus or minus in both eyes, although it is possible to have one eye with a plus and the other with a minus.
Please ensure that you put the correct plus or minus when you are placing your order; at Designer Glasses Boutique we do check all our orders to ensure no common mistakes have been made, however, if you do enter the incorrect prescription we will not be able to refund you for the lenses, as per our terms and conditions. If you are unsure about anything, please give us a call and we can help you! You can always email us a copy of your prescription and we can enter all the details for you.
The Cylinder (CYL) and Axis are not present in every prescription, they measure astigmatism in the eye and not everybody has this. If your Optician has written DS or SPH in these boxes, this means you do not have astigmatism and can leave this blank. Astigmatism is visual distortion and is caused by an irregularly shaped cornea.
The ADD power is required for glasses for reading, so this is needed in reading lenses, bi-focal and varifocal lenses.
If you have a prism on your prescription, please get in touch and we will be able to advise you.
If you're not sure about anything, we are on hand to help and our friendly on-site Optician can answer any questions that you may have.
What Is My Pupillary Distance?
You may be wondering to yourself what a pupillary distance is (PD). Quite simply, it's the distance between your eyes, measured using the centre of your pupils. Your PD helps you to get the optimum level of performance from your lenses.
How Do I Measure My PD?
You can ask the Optician or store where you last purchased your glasses from if they will provide you with your PD (pupil distance) measurement. If you prefer not to ask we recommend 'EyeMeasure' for Apple iPhone or 'GlassesOn' for Samsung/Android users. Alternatively. you can send us an old pair of glasses and we can get the measurement for you. With the help of a friend, you can measure your PD yourself - all you need is a spare set of hands and a ruler (ask us for our guide). Alternatively we can take the average measurement of 63mm.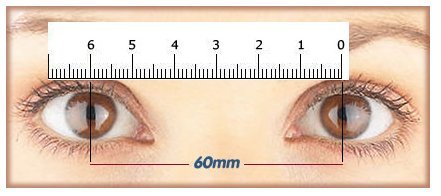 Lens options
So let's move on to different lens indexes; this is what alters the thickness of your lenses. The lens thickness will depend on the glasses/frame that you have selected and your prescription.
If you're thinking about coatings and tints, don't worry - we'll get on to that later!
Standard lenses come in a range of thicknesses.
If you have a prescription that is between 0.00-2.00 and are choosing a full rimmed metal or plastic frame, then the standard 1.5 lenses will be fine for you.
If your glasses are rimless or semi-rimless (this is when the frame doesn't completely go around the lens) and your prescription is between 0.00-2.00 then we would recommend a 1.59 or a 1.6 index lens because lenses in rimless or semi-rimless frames are more prone to cracks, chips and breakages due to the lens not being fully supported all of the way around. 1.59 and 1.6 index lenses are made from a more dense plastic material so won't chip or crack if knocked or dropped.
Now you may be thinking, "Well, my prescription is over 2.00. Which lens thickness shall I pick?"
The next option is a 1.6 index lens which reduces thickness by 30%, compared to a standard lens, we would recommend prescriptions between 2.25 and 3.50. As said previously, we also recommend a 1.6 index lens for semi rimless and rimless frames.
A 1.67 index lens reduces thickness by around 40% and we would recommend this index for a prescription around 3.50 and 4.50.
A 1.74 index lens is recommended for any prescription over 4.50. The 1.74 index is the thinnest plastic lens material available.
A 1.59 is another option, this is a polycarbonate lens, it's just about as thin as a 1.6 index lens, it's a very lightweight lens and is impact resistant so is particularly good for sports players or those who really appreciate lightweight glasses.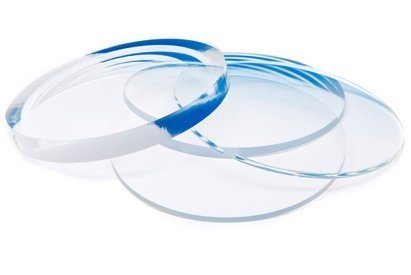 We are also able to offer the option of glass lenses, as standard all our lens are plastic however if you would prefer glass lenses please contact us with your prescription details and we will be able to offer you some options.
Size Guide
The frame measurements means the following:
1 = This measurement is the width of the bridge e.g. 18mm
2 = This measurement is the width of each lens e.g. 54mm
3 = This measurement is the length of the arm e.g. 135mm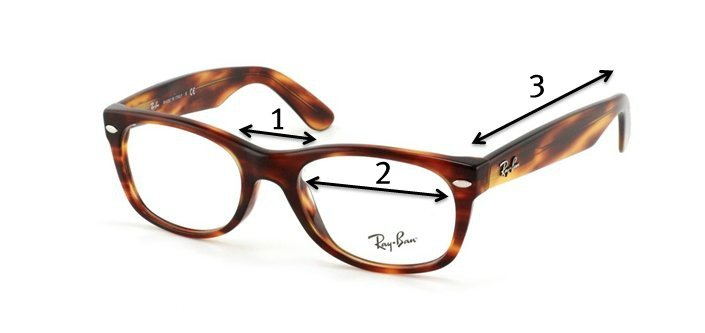 Most frame measurements can be seen on the arm and/or the bridge of the frame. So it may read 51/17/180. If you have any difficulties please contact us.